"Flex Effect"
Contest sponsored by Genworth LTC*
Every Genworth LTC Privileged Choice® Flex, Privileged Choice® Flex 2 and Privileged Choice® Flex 3 Long Term Care Insurance application received between July 21 and September 30, 2014 that is placed by December 31, 2014 is eligible for VISA gift cards. See details below.
Get the Flex Effect. Its as simple as 1 – 2 – 3. Talk with clients, submit applications that become placed policies and earn VISA gift cards.
Winners will be announced and receive VISA gift cards in February of 2015.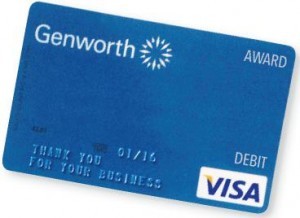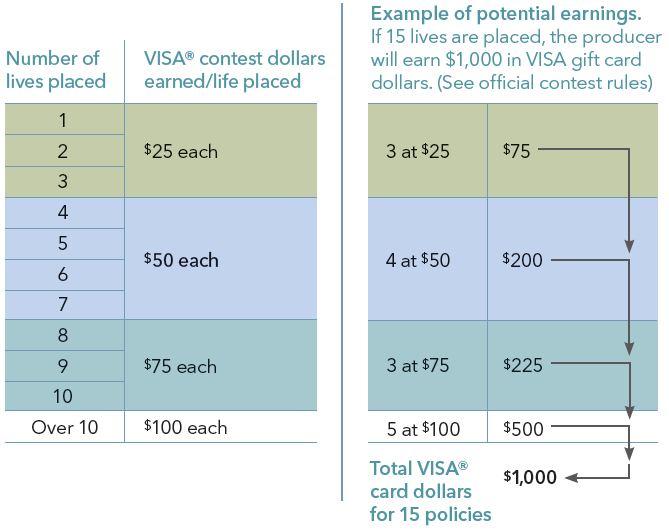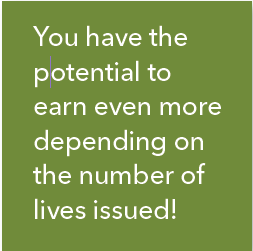 Official Contest Rules:
• Each Genworth Privileged Choice® Flex, Privileged Choice® Flex 2 or Privileged Choice® Flex 3 Long Term Care Insurance application written, submitted and received at the Genworth home office between July 21 and September 30, 2014 and issued no later than December 31, 2014 shall be deemed a "Contest Policy".
• Contest winner will be issued VISA card(s) in the amount of $25 per life for the first 3 lives, $50 per life for 4–7 lives, $75 for 8–10 lives and $100 for lives above 10.
• Visa gift card terms of use apply. No substitution of prizes is permitted.
• Participation in this contest is voluntary and is subject to applicable laws and regulations. Void where prohibited by law.
• To be eligible for the contest, participants must be appointed and in good standing with Genworth and the participating agency at the time the prize is disbursed.
• All federal, state and local taxes and all other expenses, costs and fees associated with the receipt and/or use of a prize are the sole responsibility of the winner.
• Restricted Commission State rules apply.
• By entering this contest, entrants agree to waive any right to claim any ambiguity or error in the Official Contest Rules, if applicable, and agree to be bound by the Official
Contest Rules. All interpretations of the Official Contest Rules shall be at the sole discretion of Genworth, whose decisions are binding and final.
• Winners will be announced in February of 2015. Winners agree to the publication of their names and likenesses without additional compensation unless prohibited by law.
• Genworth reserves the right to suspend or terminate this contest, or any part thereof, for any reason or no reason at all, including without limitation, in the event in Genworth's
sole and absolute discretion the administration, security, fairness, integrity or proper conduct of the contest is jeopardized.
• In the event of multiple Writing Agents submitting the same Eligible Application, Genworth will pay the VISA gift card dollars on a pro rata basis among the submitting
Writing Agents.